Truth time: talking about money can be awkward. Talking about money while also trying to navigate the social minefield of friendships? Even more of a yikes.
At some point in life, everyone has times when they identify as a Big Spender and a Big Saver. It may depend on your salary or even just the time of month. The key is learning to understand and communicate with your friends no matter what role you fall into at any given time.
According to a 2017 report from Bank of America, around 44% of people have cited money as a stressor in friendships. We've got three awkward situations with tips on how to handle them below, whether you're the Big Spender, the Big Saver, or any combination of both!
Scenario 1: To Go Out or to Not Go Out
Hands down, one of the best parts of college is the social life. Lifelong memories are made on nights with friends, be that snuggling on a couch for a movie or dancing the night away at the unofficial campus bar. Those nights out can really add up, though. When it gets to the point where one friend feels like they have to miss out on quality time together because of the $10 cover to get in the bar or the pricey menu at dinner, tensions can arise and feelings can get hurt.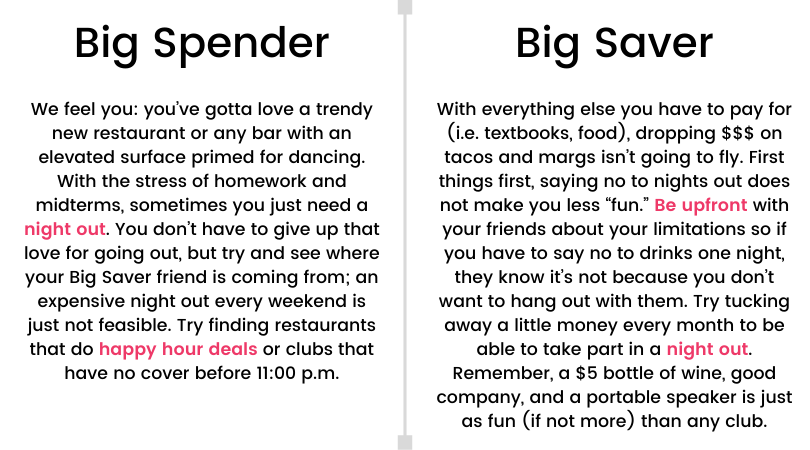 Scenario 2: Let's Go to the Beach, each, Let's go get away
Few things are as quintessential college as Spring Break; we've all seen the movies. But travel's not cheap, especially on a broke college student budget. Check out our previous post on traveling on a budget, and read on for tips on planning an epic getaway that everyone can feel good about.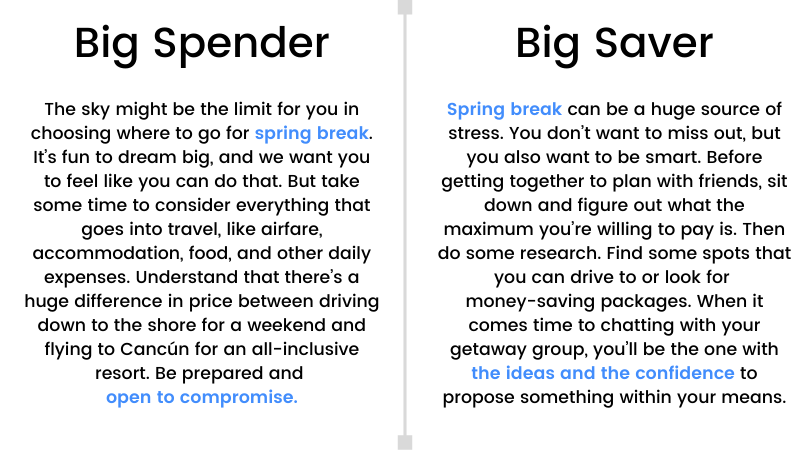 Scenario 3: This seemed like a lot more fun on House Hunters…
For many college students, becoming an upperclassmen means finally earning the privilege of not having to live on campus. Maybe you're looking to pile 10 of your closest friends into one house; or maybe you want a little lower-key situation, with maybe 1 or 2 other roommates in an apartment. Either way, making the transition from paying dorm fees to monthly rent is a big change.
TLDR: Empathy is the name of the game here, folks. At the end of the day, you love your friends and want the best for them, and that includes financially. Communicate and compromise. (We even made a Tik Tok about it!)
Whether you're a big saver or a big spender, you could use a little extra cash. Get up to $2000 of borocash on the boro app now and pay back over time.